中文崇拜
Chinese Services

Sunday | 8.30AM

中文崇拜是以中文为媒介语,让爱主的弟兄姐妹聚集一起敬拜赞美,分享和团契。
CHINESE SERVICE caters for Chinese speaking community & family members from all ages to gather together for a time of worship, sharing & fellowship.
Join our Services Online on Sunday, 8.30AM.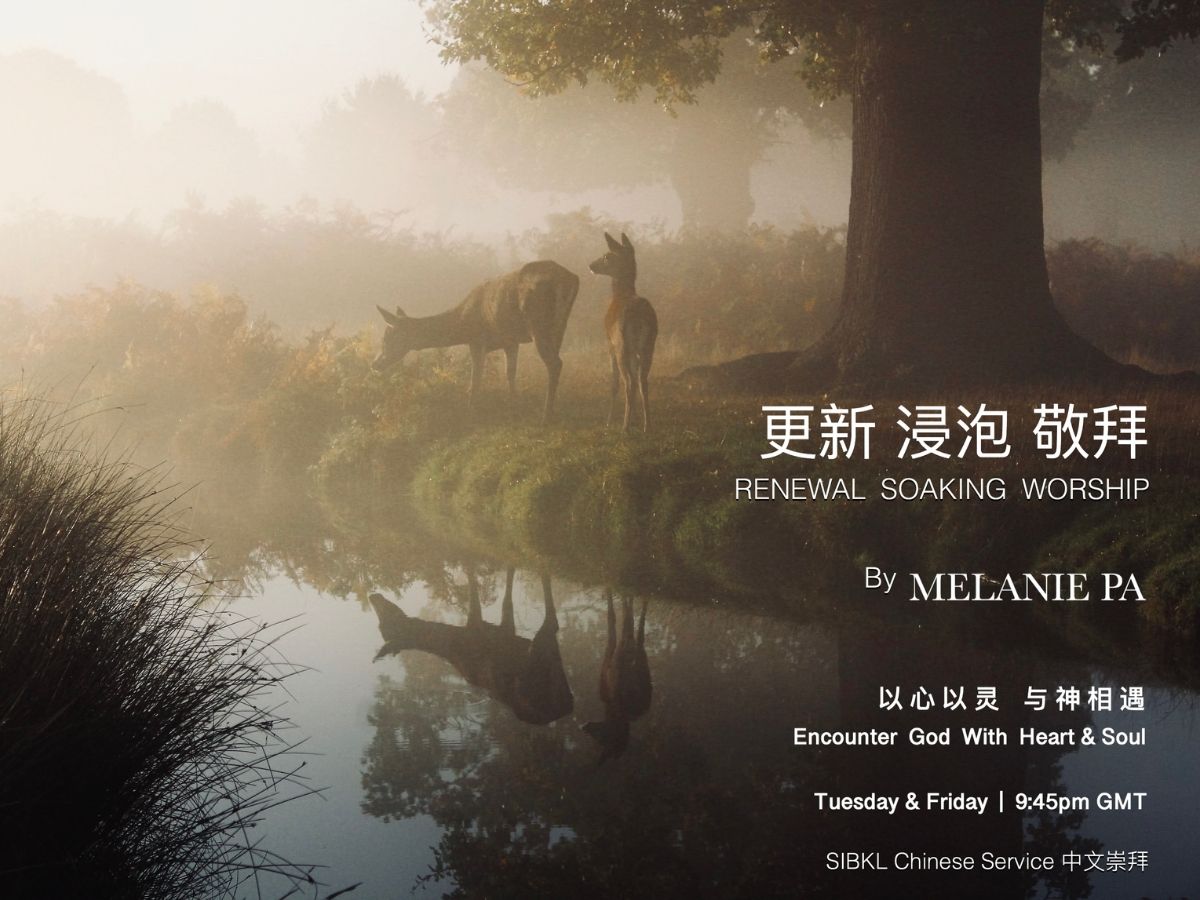 欢迎各位在星期二 &五,9:45PM与Melanie传道在线上用浸泡式音乐敬拜:
1.准备身心灵 (圣经,笔记本)
2.进到密室(你与神相遇的地方或家里安静的角落)
3.借着浸泡式敬拜音乐带你亲近神
【 更新 浸泡 敬拜 】
Renewal Soaking Worship
– 浸泡式音乐敬拜 以心以灵 与神相遇 –
借着圣灵的引导进入安歇和自由里。
完全沉浸在神爱的能力里。
透过浸泡式音乐敬拜,身心灵得以享受神的同在。
这时,让我们卸下重担交托给神,
一起来祷告,浸泡在神里面,一切都更新,
让圣灵的水流,流到我们内心深处,
经历神的真平安。
Shalom!
You're invited to join our Online Soaking Worship by Pr Melanie Pa on every Tuesday & Friday at 9:45PM.
Come with a ready heart, mind, and soul (Bible, Notebook)
Go to your secret place (the place where you meet God or quiet corners of your home)
Be drawn closer to God through soaking worship music.
[RENEWAL SOAKING WORSHIP]
Soaking music worship–Encountering God through heart and soul.
Enter into a posture of rest and freedom through the guidance of the Holy Spirit.
Be fully immersed in the power of God's love.
Let our bodies, minds, and spirit enjoy the presence of God through soaking music.
Let us lay down our burdens and commit ourselves to God.
Let us pray together, soak in God's presence, and let all things be renewed.
Let the flowing of the Holy Spirit move deep inside us.
Experience the perfect peace of God.